Some insects insert their eggs into seeds and their larvae consume its storage matter, often inhibiting the survival and growth of seeds and seedlings and so reduce the fitness of host plants.  Preference-performance hypothesis (mother-knows-best hypothesis) in host selection by herbivorous insects predicts that females maximise the fitness by laying their eggs on plant units on which their offspring perform the best.  When the larvae cannot easily move from seed to seed, selective oviposition into the most nutritious seeds (e.g. fertilized  seeds), and/or avoidance of seeds already bearing eggs may increase the fitness of the parents.
     To determine whether the seed parasitoid wasp Macrodasyceras hirsutum oviposits selectively into fertilized seeds and avoid seeds already bearing eggs, field observations and experiments were performed.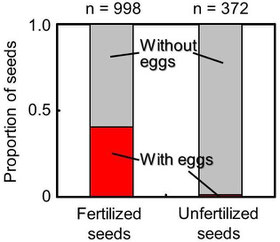 Dissection of berries showed that M. hirsutum oviposited mostly into fertilized seeds and rarely in unfertilized seeds.
     It is speculated that the wasps that attack the seeds of gymnosperm trees (conifers) before they are fertilized can induce unfertilized seeds to accumulate storage material whereas those that attack after the seeds are fertilized selectively oviposit in fertilized seeds.  The results supported the hypothesis.
     Macrodasyceras hirsutum deposited one to five eggs into a fertilized seed.  Iwao's patchiness regression suggested a uniform distribution pattern of M. hirsutum eggs among fertilized seeds at the scales of tree and berry and their random distribution pattern among berries at the tree scale.  Destroying the connection of seeds within berries revealed that female wasps randomly selected berries for oviposition in most trees.  The results showed that the wasp females do not distinguish between berries with different numbers of fertilised seeds distinguish between seeds harbouring different numbers of eggs.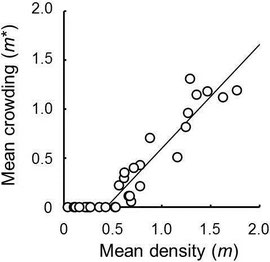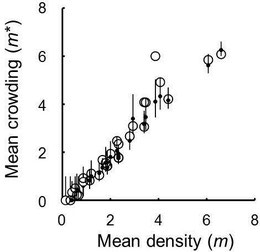 Takagi, E. & Togashi, K. (2013) Distribution patterns of Macrodasyceras hirsutum eggs among Ilex integra seeds and berries. Canadian Entomologist, 145, 639-646.
Takagi, E., Iguchi, K., Suzuki, M. & Togashi, K. (2010) Selective oviposition in fertilized seed of Ilex integra by the wasp Macrodasyceras hirsutum (Hymenoptera: Torymidae). European Journal of Entomology, 107, 197-202.
     Biodiversity comes from species diversification and interactions among them.  Recently, an appreciation has been developing of how multi-species interactions synergistically or antagonistically alter the ecological and evolutionary outcomes of interactions from outcomes predicted by pairwise interactions.
     For example, fleshy fruits and seeds provide highly nutritive food for animals.  There are many negative relationships between plants and insects.  In contrast, frugivorous birds are also attracted by fleshy fruits and are agents of seed dispersal.  The focus of many classical and contemporary studies in ecology and evolution, however, has been on pairwise interactions between individuals and/or species ; plant-insect interactions and plant-bird interactions have been treated separately.
     In the triad system consisting of plants, seed-dispersing frugivorous vertebrates, and seed parasitoid insects, I investigated colour manipulation in Ilex integra berries caused by the seed parasitoid wasp Macrodasyceras hirsutum and how that manipulation relates to fruit attractiveness for frugivorous birds.

     I demonstrated that the seed parasitoid wasp manipulates the berry colour, but not its shape or size, in a density-dependent manner.  Because green berries suffered less from bird foraging, I believe that this colour manipulation helps the wasps to avoid being killed by the birds.  The results indicate that manipulation by wasps may reduce the level of mutualism between the tree and seed-dispersing birds.
Takagi, E., Iguchi, K., Suzuki, M. & Togashi, K. (2012) A seed parasitoid wasp prevents berries from changing their colour, reducing their attractiveness to frugivorous birds. Ecological Entomology, 37, 99-107.
     Dietary speciation and host shifting have been proposed to promote herbivore diversification.
     When monophagous and oligophagous insect herbivores colonize new areas, they may lose their original host plants.  Therefore, the insects sometimes use novel host plants, and colonize new areas.  The availability of the new hosts can thus facilitate further expansion into regions beyond the geographic range of the original hosts.  As a result, the insects specialize on different host plant taxa in different parts of their geographic range, whereby they can be locally monophagous but geographically polyphagous.
     To determine whether the specialised herbivores exhibit the correlation between host plant appearance and host selection, I investigated the oviposition of M. hirsutum females into the seeds of the nonhost plant Ilex latifolia Thunb., the closely related species to I. integra, when being deprived of I. integra seeds.

     Macrodasyceras hirsutum oviposits in closely related non-host plant I. latifolia seeds when experimentally deprived of host plant I. integra.
     Strongylocoris leucocephalus Linnaeus (Hemiptera: Miridae), which is a plant bug attacking Campanula spp., is widely distributed in the Eurasian continent, North Africa, and northern Japan.  In the process of geographic range expansion, S. leucocephalus may incorporate novel host plants into their host range. I investigated the host plant species of S. leucocephalus in central Japan.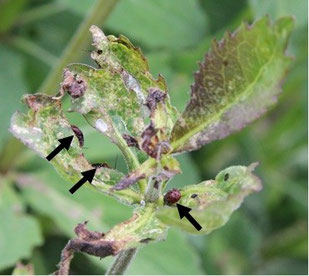 In central Japan, they often feed on Adenophora triphylla (Thunberg) A.DC. var. japonica (Regel) H.Hara (Campanulaceae) but never consume Campula punctata Lam. var. hondoensis (Kitam.) Ohwi.
     The plant bug S. leucocephalus and the novel host plant A. triphylla var. japonica are not entirely distributed sympatrically, suggesting that the plant bug has expanded its geographic range by incorporating new hosts.
Takagi, E. (2014) Herbivory by Strongylocoris leucocephalus (Hemiptera: Miridae) on a novel host plant Adenophora triphylla var. japonica in Japan. Journal of Asia-Pacific Entomology, 17, 499-503.
Takagi, E. & Togashi, K. (2013) Oviposition of the seed parasitoid wasp Macrodasyceras hirsutum (Hymenoptera: Torymidae) into seeds of nonhost tree Ilex latifolia. Journal of Entomological Research Society, 15(2), 17-20.